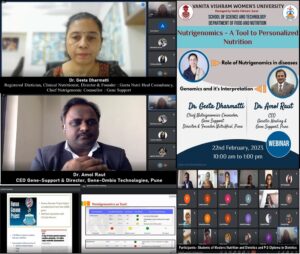 Department of Food and Nutrition had organized a webinar on Nutrigenomics- A tool to Personalized Nutrition on 22nd February, 2023 from 10:00am- 1:00pm.
The session on the topic "Genomics and its interprétation  was conducted by Dr. Amol Raut, CEO Gene-Support & Director, Gene-Ombio Technologies, Pune, one of the only three Laboratories available  in India for Genetic profiling.
Dr. Geeta Dharmatti, Registered Dietician, Clinical Nutritionist, Director & Founder : Geeta NutriHeal Consultancy, Chief Nutrigenomic Counsellor: Gene Support having an experience of more than 20 years in the field had explained about the role of Nutrigenomics in various diseases.
The participants were students of Masters in Nutrition and Dietetics and P.G. Diploma in Dietetics who could understand these new Nutrition concepts from such eminent experts.