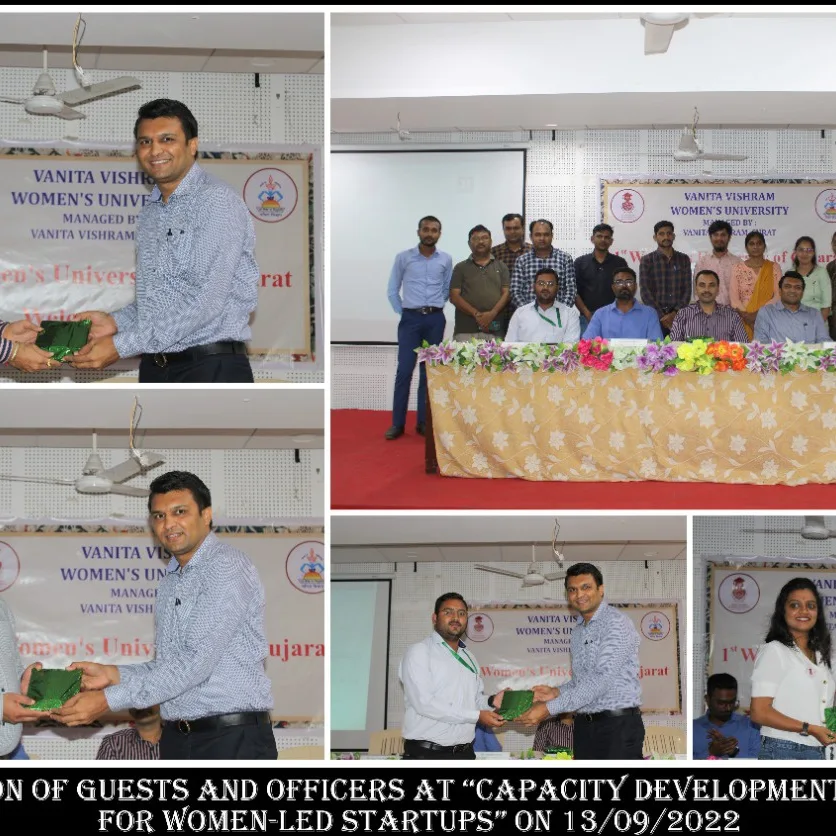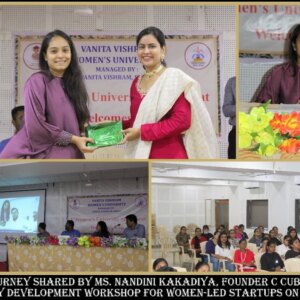 Capacity Development Workshop for Women-led Startups
Startups and Innovation play a key role in economic growth. Besides generating jobs, they focus on smarter, gen-next solutions which bring economic dynamism by bringing in innovation and spurring competition.
Vanita Vishram Women's University (1st Women's University of Gujarat) in collaboration with District Industries Centre, Surat organized "Capacity Development Workshop for Women-led Startups" on 13 September 2022, 9.45 am to 1 pm where Shri G. K Gohil, RM Manager, DIC, Surat Delivered about why To Startup and Types of Loan Facility available for Women Entrepreneur from Govt of Gujarat. Dr. Daxesh Thakar, Provost of VVWU motivated Students about the importance of Ideas. There were four speakers for the workshop where Mr. Krush Kataria, Facilitator from the Startup Gujarat team joined Online from Ahmedabad and Discussed in Detail about Startup policy in Gujarat. 2nd Speaker Ms. Nandini Kakadiya, Founder of C Cube Forever Jewellery interacted with student participants and explained her startup journey. The third Speaker Mr. Darshan Mehta, Incubation Manager, ASHINE Surat discussed Incubation Facilities available at ASHINE, SVNIT, Surat, and the last speaker Mr. Omkarnath Pandey discussed Opportunities like Entrepreneurship Development Programs and Other Funding Available for Women at Center for Entrepreneurship Development, Govt of Gujarat.
At last Prof Vijaykumar Radadiya Shared a Vote of Thanks for such an Insightful event proposed by DIC Surat.
We are expressing our Gratitude to Mr. Aarshey Shah, MSME Facilitator, DIC Surat, Dr. Nanda Bothra, Ms. Madhulika Singh, Dr. Sangeeta Shrivastava, Technical Support team Mr. Tejal Parekh and Ms. Neha Patel, Peon Staff Mr. Jigneshbhai and Mr. Amitbhai and All Students Coordinators Poonam Patel, Diya Chaurasia, Chugh Komal, Bhoomi Sharma, Harsha Khatri, and Parul Gagia.
Gujarat, owing to its inherent strength of widespread entrepreneurial spirit has gained a significant spot in the national startup ecosystem due to this Gujarat has been judged as the 'Best Performer State' for the third time in a row in the States' Startup Ranking 2021.